Electrolytic Dry Fog Sterilizing Atomizer SIFROBOT-8.0
The Dry Fog Sterilizing Atomizer SIFROBOT-8.0 is a dry fog spraying machine which is compatible with most disinfection solutions available in the market.

Electrolytic Dry Fog Sterilizing Atomizer SIFROBOT-8.0 advantages: 
Decreasing the concentration of the new corona virus (COVID-19).
Limiting the outbreak of the virus.
Avoidance of chemical exposure and disinfectant linked poisoning.
Making a significant difference to terminal room cleaning.
No installation, debugging and training of engineering personnel is needed. After the user receives the product and adds the water and salt, he can start disinfecting  with one key.
SIFROBOT-8.0 fundamental utilities:
With 360° full disinfection, SIFROBOT-8.0 can be used in supermarket, office, meeting room, gym…
A dry mist sterilization system allows the robot to diffuse a sterilizer product in a large working space with its  wide-spectrum disinfection effect.
You just need to place water and table salt in the tank, to generate sodium hydroxide (dissolved in water) hydrogen (emitted from the instrument) and chlorine.
SIFROBOT-8.0 Technical Specifications
| | |
| --- | --- |
| Model NO. | SIFROBOT-8.0 |
| Water tank volume | 13L |
| Weight | 4 kg |
| Power Supply | 110-240V |
| Volume | 1500ml |
| Material | ABS Material |
| Fog Effect | 1500ml/H |
| Applicable Area | 100 Square Meter |
| Working Time | 10h |
| Transport Package | 1 Set / CTN |
| Dimensions | 35x29x55.5 |
| Warranty | 1 Year |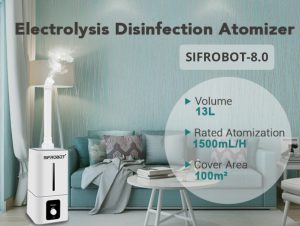 Inside The box: 
× 10 Trees planted for one purchased item
One Tree Planted is a movement. Our mission is to reforest our planet, provide education, raise awareness and engagement on the importance of trees in our ecosystem.
Above all it has a social impact. Encouraging and giving incentive to low income people to plant Trees in their Area.
Reducing carbon footprint : A mature tree absorbs an average of 48 lbs of CO2 per year.
We give you the chance to participate and be part of this noble project.
We plant Trees for you for each product you purchase from SIFSOF.
Let's re-Green our Earth together