Dry Fog Disinfection Robot: SIFROBOT-6.67
Dry Fog Disinfection Robot: SIFROBOT-6.67  independently plans the disinfection route with fully automatic indoor unmanned driving to perform a 360° Dead corner disinfection. 1000m³ space can be disinfected in 15 minutes to avoid the risk of cross-infection.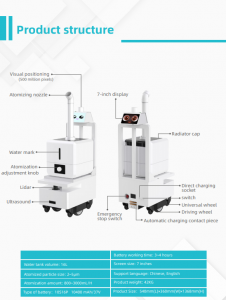 Dry Fog Disinfection Robot: SIFROBOT-6.67 Advantages:
· Original cloud service management platform, remote navigation deployment, time-saving and efficient
· It can disinfect 1000m³ of space in 15 minutes
· Robot cruising speed is adjustable: 0.2m/s~0.8m/s
· Timed disinfection function, automatic execution of disinfection tasks
· Laser SLAM and V-SLAM fusion, accurate map construction and positioning
· 0.5-second intelligent obstacle avoidance, indoor autonomous route planning
· 3000ml/h atomization volume, 360° air surface disinfection
· 16L large water tank makes the robot spray disinfection work lasting
· 37V/10A·h lithium battery, 3~4 hours long-lasting battery life
· Low battery will automatically return to the charging dock.
· Supports common disinfectants such as hypochlorous acid, sodium hypochlorite, hydrogen peroxide, peracetic acid, etc.
Inside The box: 
× 30 Trees planted for one purchased item 
One Tree Planted is on a mission to reforest our planet and provide education, awareness and engagement on the importance of trees in our ecosystem. It also has a social impact encouraging and giving incentive to low income people to plant Trees in their Area.
Reducing carbon footprint : A mature tree absorbs an average of 48 lbs. of CO2 per year.
We give you the chance to participate and be part of this noble project. We plant Trees for you for each product you purchase from SIFSOF.
Let's re-Green our Earth together